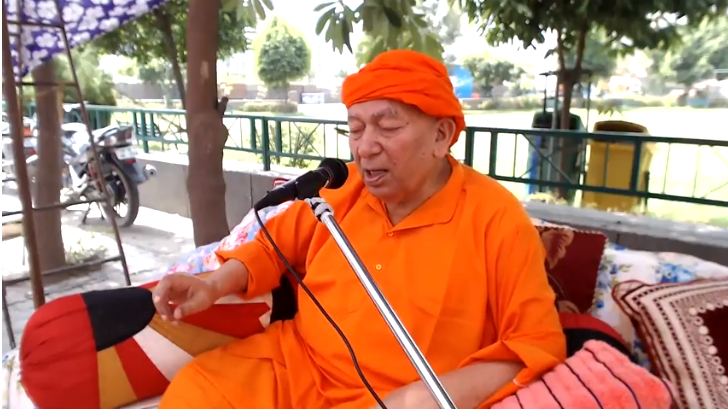 Swami Ram Swarupji, is Yogacharya and Founder President, Ved Mandir located at Yol Camp in Kangra District of Himachal Pradesh, India. He has dedicated his life towards spreading the message of Vedas and God to humanity.
Swamiji was born on June 6th, 1940 and his native place was Rohtak in Haryana. He completed F. Sc. and subsequently did Electrical Engineering at City & Guilds (UK). He joined Military Engineering Services and was in defence services for 26 years. Since childhood, he was inclined towards spiritualism. He perused worship and meditation since childhood and continued the same during service. He retired on March 31st, 1986.
He also Graduated in Vocal and Instrumental Music (B. A) from Allahabad University. He is one of the finest players of Tabla, Harmonium and Banjo. He often sings spiritual songs composed by him, from Vedas and other saints. Over 12 cassettes and CDs containing bhajans are available, apart from ones containing preachings. Sant Vani bhajan series has been released in 8 volumes. Vedon Ki Chaav Tale 1 & 2, Bhakti Ras, Bhaj Govindam, etc. have been extremely popular. Recently, he also has composed two CDs containing Vedic Bhajans and Sufi bhajans respectively.
In order to seek truth, he has studied Vedas, Shastras, Upnishads, Mahabharat (including Bhagwadgeeta), Valmiki and Tulsi Ramayan, and Brahman Granths like Yaskacharya, Shatpath, Manusmriti, etc. He has studied Sanskrit language under Guru Shishya parampara traditionally. He also also studied Shri Guru Granth Sahab and is habitual of singing shabad kirtan on harmonium. He also also studied other spiritual books such as Holy Bible, Kuran Sharif and Purans.
He met a great Yogi Guru in dense cave of Rishikesh and by his kind blessings got yoga education and did hard Ashtang Yoga practice in Ladakh, Rishikesh, Rajouri-Punch border while in defence service. He got enlightenment on 19th March 1979 by the blessings of Yogi Guru Late Sh. Baba BrahmDass Bankhandiji Maharaj.
Since 1971, he has been delivering spiritual preachings of Vedas, Shastras, Geeta, etc. and condemns all bad evils of society. In 1987 organised Ved and Yoga Mandir at New Delhi as well as at Yol Bazaar in District. Kangra of Himachal Pradesh. He is writer of over 20 Spiritual Books including Aatmik Udgar, Manav Dharm Shiksha, Vedic Pravachan Sangrah, Shrimadbhagwadgeeta – ek Vaidik Rahasya, Patanjal Yog Darshan 1 & 2, Vedas – a divine light Part 1, 2 & 3, Protect the Holy Cow – say Vedas, Yoga – a divine Vedas' Philosophy, Sandhya Mantra, Yajyen Karm sarvashreshth Ishwar Pooja, Dil Se Dil Ki Baat, Mrityu ek katu Satya, Brahmcharya – dukh nivarak divya mani, Vedanta & Eternal Vedas Philosophy 1 & 2, Bhajan Kirtan and many others.
He has performed thousands of Holy Yajyens since 1980 in public and has been preaching in Punjab, Jammu & Kashmir, Delhi, Uttar Pradesh, Bihar, Maharashtra, Orissa, etc.He also went to USA on invitation of a disciple and delivered spiritual lectures on Yoga & Yajyen in New York, Orlando and Tallahassee. He was also selected as a Professor of Yoga in Hindu University of America, Tampa (Orlando) but he declined. He has also preached in South East Asia.
Bogor International Club Indonesia has been printing his Yoga education Articles. Has been writing regularly in several local papers like Divya Himachal (Kangra), Himachal Kesari (Dharamshala-H.P), Shail Samvad (Dharamshala, where he is Spiritual Editor too), Kashmir Times, Kashmir Post, Raghunath Samachar, Views Today, Bismark (Bilingual-Daily), State Times, Daily Excelsior, Dainik Jagran, Amar Ujala, Times of India, Nav Akash and others. Has been writing in Yojana Patrika of J & K Govt., Himgyanlok Patrika of Himachal Govt., Vishv Jyoti Patrika of Hoshiarpur Punjab, Propkari Patrika of Ajmer(Rajisthan), Jangyan Patrika of Delhi, Mystic India of Delhi, Unity International, Chief Patron and regular writer of Psycho Digest from Dharamshala H.P., Punarvas and others. Arya Sandesh magazine of Arya Samaj publishes a column containing questions and answers, every week.
He also has been invited to several leading national and international functions as Chief Guest/Guest of Honour. He also has been speaking at various forums and events on Vedas, Geeta, etc. Swamiji preaches from Vedas, Shastras, Geeta and Ramayana. He imparts Yoga education regularly.
For the benefit of public, he has been organizing Yajyen from four Vedas from last week of April till second week of June yearly since 1980. For the last 29 years, Yajyen is being organized at Ved Mandir, at least twice a day. Boarding and lodging is completely free at Ved Mandir for those attending Yajyen and families from across the world attend the event.